Tekapo
Tekapo
Lake Tekapo is the northern-most of three large lakes in the Mackenzie Basin, a high country sheep farming area located roughly at the centre of the South Island. Previously a stop off on the way to Mt Cook, the township is fast growing as a tourist destination in itself, with breathtaking mountains, gorgeous colours, plenty to do and accommodation to suit everyone. The town contains two resorts, a great variety of motels, lodges, bed & breakfasts and backpackers as well as holiday homes and camping grounds.
During the day, enjoy the hot pools with excellent views across the lake, make use of the outdoor skating rink, or hit the slopes of either of two small commercial ski fields near by. Tekapo has been designated a "Passive Area" which means there are no noisy jet boats on the lake, and quiet forms of water recreation such as kayaking, fishing and wind surfing thrive.The area also has one of the clearest night skies in the world, and there are both day and night tours to Mt John Observatory, located 300m above the township.
The Church of the Good Shepherd is located on the eastern shore of Tekapo's main outflow, the first church to be built in the Mackenzie Basin (1935). Based on sketches by a local artist, the church sits both prominently and reflectively in the landscape, small and modestly made of local stone, while left outstanding from the town to emphasise its panoramic setting.
The Mackenzie Basin is one of the driest parts of the country, and when not blanketed in snow the Tekapo area is a rich mixture of rolling greens and browns, enclosed by 1000 metre (3300 ft) mountainous rises. Similar to its southern counterparts Lake Pukaki and Lake Ohau, Tekapo has a brilliant blue hue produced by the flow of extremely fine rock created by glacial melt into the lake.
Lake Tekapo is an integral part of the South Island's power generation as it is the highest lake in the Waitaki Hydroelectric Scheme. The lake's outflow passes through eight power stations before it finally flows from the Waitaki River and into the Pacific Ocean. 75% of New Zealand's power generation comes from Hydro Electricity.
---

Featured Tekapo Events
---
Tour Tekapo

Tour Tekapo Area
Tekapo Sky Lodge
- Holiday Home.
Tekapo Sky Lodge offers luxurious contemporary accommodation in Lake Tekapo. This appealing property boasts panoramic...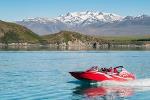 Lake Tekapo Scenic Jet Boat Experience
- Jet Boating - Tekapo.
Starting from $95.00 per person
.
Tekapo Jet is your opportunity to get onto Lake Tekapo and experience New Zealand's most beautiful lake with our...